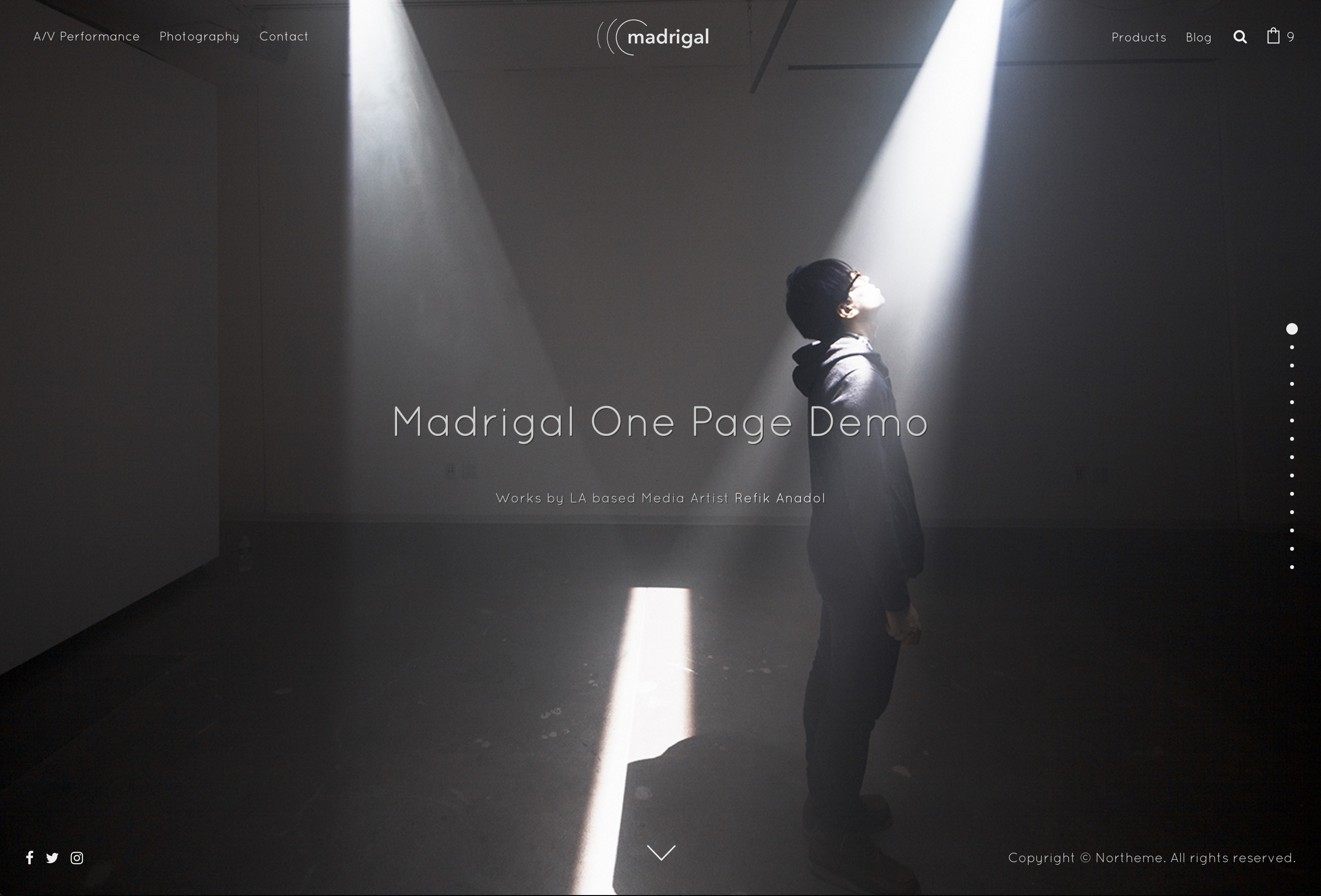 Madrigal V2.2 is out today and it brings some exciting new features that you'll love!
First and obviously the most exciting one is single page feature. Madrigal has a new Single Page / One Page template that allows to build slick & minimal one page websites. You can build parallax sections, list posts from any post type such as Portfolio, Blog or Shop and anything you can think of.

Building a One Page Portfolio
Creating a one page template is quite easy. Just activate Enable Single Page option while you're adding a new page and activate Visual Composer. Then each row will become a section of your one page website.
An exclusive Visual Composer element, Single Page Posts, also included. Add it to your page, select a post type like Blog, Portfolio or Products, adjust layout settings as you wish and have a cool posts listing page within minutes!
Here is the live demo :
New Header and Footer Alignment Options
Header menu alignment used to offer two options as left and right before. Now, two new options added to Layout Settings as Center – Menu on the left and Center – Menu on the right. These options allow to change logo alignment as center and display menu on the left or right side. Search and cart icons will be placed to the opposite side according to your preferences.
Additionally, Northeme Secondary Menu location has been added to Appearance > Menus. If a menu assigned to this location and center alignment selected, it will appear on right side of the screen.
As for footer, its alignment can be set as fixed in order to use it as sticky. Header and footer locations can be switched to display menu at bottom and footer otherwise.
Page Cover Options
Also Page Hero has been improved. Optional text shadow settings added to increase title visibility. Bottom arrow option added to point the bottom of the page, yet it's optional again. Initial BG opacity, disabling fading effect on scroll, full height, using absolute position instead of fixed are the other options that you can adjust from Page Cover panel on add / edit page and post.
Lightgallery : New Lightbox Plugin
New lightbox plugin, Ligthgallery, has also been incorporated into Madrigal while Magnific Popup (previous default lightbox plugin) kept as an alternative. You can also see how it works on Madrigal One Page Demo by clicking on images.
Here are the features of Lightgallery :
Embed video support
Touchswipe and Mousedrag activated
Zoom in / out buttons
Optional thumbnails (w/ center or left alignment options)
Slide animations
Fullscreen button
Full List of V2.2 Updates
NEW FEATURE : Single page template. Can be enabled from Page Attributes when adding a new page. More info can be found at One Page theme section of theme documentation
NEW FEATURE : New alignment options added for header. Now, logo alignment can be set as left, right or center at Northeme > Layout > Website Layout.
NEW FEATURE : New alignment options added for footer. Footer alignment can be set as fixed to always follow. Footer and header location can beswitched.
NEW FEATURE : Northeme Secondary Menu location has been added to Appearance > Menus. Secondary menu will appear on the right if center logo alignment activated.
NEW FEATURE : New visual composer element Single Page Posts added. It can be used on Single Page feature activated pages in order to display posts per pages.
NEW FEATURE : New options added to Page hero panel for posts and pages. Page hero initial height, position, opacity and other settings can be adjusted.
NEW FEATURE : Lightgallery Lightbox Plugin added! Now Lightgallery or Magnific Popup can be used as lighbox.
NEW FEATURE : Visual Composer Element : "HTML5 / Embed Videos" Add html5 videos or video URLs from 3rd party video providers (Vimeo, Youtube) to your page
New options added for Lightgallery at Northeme > Lightbox Settings : Disable Zoom, Disable Counter, Disable Fullscreen, Disable Loop
Northeme > General Settings > Page Title Separator for HTML title of built-in SEO plugin
New navigation arrows type for sliders & galleries : Northeme > Slider & Gallery Settings > Arrow Types
Northeme > Fonts > Font Styling > Footer Text option added for footer text styling
Demo importer error handling scripts added
Northeme > Fonts > Font Types > @fontface activated according to new CSS3 guidelines. Uploading .woff and .woff2 files suffice to add a new font. (it's highly recommended to update your fonts by uploading .woff2 if you're using @fontface)
Social icons BG option added to  Northeme > Post Sharing & Social
Media in order to display icons over a circle BG.
Social media icon list option added to Post Sharing to select basic social media icons from select box.
Official sharing buttons options added to Northeme > Post Sharing & Social Media. If activated, official sharing buttons will appear instead of icons
Font Awesome updated to the latest (V4.6.3)
Image DB queries reduced for better performance
Breadcrumbs duplicate fix
Password protected page fixes
Input placeholder text color CSS fix
Minor responsive CSS fixes for grid layout
You can automatically update your theme from Northeme > Theme Update at your WP dashboard. As for installing manually, download the latest version from My Account page on northeme.com.